UPComing events
Mixers, seminars, round-table discussions and high-caliber conferences are just some of the events organized by SACCNY. Our functions consistently draw an impressive group of industry leaders, business executives, entrepreneurs, celebrities, and young talents offering you a platform to exchange ideas and meet new people.
SACCNY members and guests are invited to join over 400 representatives from various Chambers, all members of the European-American Chamber of Commerce in the United States, Inc.
Participants will gather at the renowned Central Park Boathouse for a truly international evening of networking, hors-d'oeuvres, buffet dinner and wine & beer, overlooking the beautiful and historic Lake of Central Park.
No cancellations will be accepted after noon May 19, 2016.
Please note that tickets are limited, please make sure to RSVP as soon as possible to secure a spot!
Date: Thursday, May 24, 2018
Time: 6:00 pm – 9:00 pm
Location: The Loeb Boathouse Central Park, E 72nd St, New York, NY 10021
Fee: $90 for Members, $130 for Non-Members
For further information, contact Linnea Harris linnea.harris@saccny.org or call +1 212 838 5530
How can you and your company strengthen your innovation capabilities for sustainable growth and profit?
In a world where nothing is constant except for disruption, innovation has become imperative for every company. Innovation360 knows how to prepare for a future of constant change. Join SACCNY and thought leader and author, Magnus Penker from Innovation360 for an interactive innovation session specifically designed for c-suits, decision-makers, and entrepreneurs. You will not only be test-driving one of the world´s most advanced innovation management models but you will also learn how your organization can sharpen their innovation strategy by assessing the following:
how to minimize project risks and pinpoint developing opportunities

where to allocate resources to achieve a balanced innovation portfolio

which ideas you can bring to market faster with greater confidence
You will also be given a 40-page personalized analysis on how to create a culture of innovation in your company. About Innovation360's CEO, Magnus Penker Magnus Penker is an internationally-renowned and award-winning thought leader on innovation, artificial intelligence, digitization, and business transformation. Furthermore, he is currently writing a 5 Volume Series on Business Innovation titled The Complete Guide to Business Innovation.
If you have any questions, please contact Linnea Harris at: linnea.harris@saccny.org or call +1 212 838 5530
Details:
Date: May 29th
Door Open 6:00pm
Seminar starts 6:30 pm
Location:
Nixon Peabody LLP
Tower 46, 55 West 46th Street
New York, NY 10036
Join SACCNY and EACC as we kick off our new Women in Leadership Series with a dialogue with Lieutenant Governor Kathleen C. Hochul.
Hear from the highest ranking female elected official in New York State, Lieutenant Governor Kathleen C. Hochul, on how she is spearheading the administration´s efforts to advance equality. The insightful conversation will also cover the Lieutenant Governor´s career achievements, challenges, and thoughts on leadership, as well as highlight New York State´s commitment to Foreign Direct Investment.
Details
Date: Thursday, May 31
Time: 6:00pm – 8:00pm
Address: Santander 45 East 53rd Street New York City
Very limited seats, please make sure to RSVP as soon as possible to secure a spot! For further information,
contact Linnea Harris on; linnea.harris@saccny.org or +1 212 838 5530
Har du någonsin funderat på att ta ditt företag över Atlanten till "the Big Apple" eller själv funderat på att smaka på den amerikanska företagskulturen?
Oavsett, så kommer en av de första utmaningarna vara att skaffa ett amerikanskt arbetsvisum.
Den 12 juni välkomnar Svensk-amerikanska handelskammaren i New York och Advokatbyrå Prima AB er till ett kvällsseminarium där vi kommer att diskutera visumprocessen, vilka typer av visum det finns samt vilka visum som passar just dig.
Eventet är ett interaktivt seminarium som inleds med en genomgång av visumprocessen samt avslutas med att öppna upp för frågor. Följande områden kommer att behandlas under seminariet:
Vanligast förekommande arbetsvisum och praktiska avvägningar
Hur man startar en visumprocess
Alternativ till H-1B visum
Seminariumet kommer att hållas på svenska och är kostnadsfritt.
Obs! Vänligen notera att detta event anordnas i Göteborg.
Talare: Advokat Barney Fyman på Advokatbyrå Prima AB, som har juristexamen och mångårig erfarenhet från advokatbyrå i både Sverige och New York.
Datum: 12 juni 2018
Tid: Dörrarna öppnas 17.00 Seminariet börjar 17.15 Mingel 18.45-19.15
Adress: Prima Law Kronhusgatan 11 411 05 Göteborg
Se till att säkra din plats så fort som möjligt då det finns ett begränsat antal platser!
Vid eventuella frågor, vänligen kontakta Linnea Harris på: E-mail: linnea.harris@saccny.org Telefon: +1 212 838 5530
Are you passionate about the trending Fintech & Cryptocurrency industry? Or is this unexplored territory? The EACC got you covered!
Join us for an exciting, educational and interactive Pitch&Mixevent organized in collaboration with the European-American Chamber of Commerce. Some of Europe´s most successful, up-and-coming tech startups will take the stage to pitch their ideas and let you in on the latest trends in the vibrating Fintech sector.
Pitch&Mix events are hosted by the European-American Chamber of Commerce to celebrate the EU tech scene, as well as to connect the broad inter-country network in NYC. Hosted in a unique setting, the hottest European startups are provided a platform to pitch and showcase their latest advances to a mix of tech enthusiasts, entrepreneurs, and young professionals from over 20 countries.
Join us to spark ideas and conversations around the future of European innovation within the Fintech & Cryptocurrency industry!

Details:
Date:June 14th
Address:Poggenpohl New York Downtown Kitchen Design Studio
270 Park Avenue South
New York, NY 10010
Time:6:30pm – 9.00pm
If you have any questions, please contact Linnea Harris at:
linnea.harris@saccny.org
or call +1 212 838 5530
saccny board meeting in stockholm - Aug 20-21
eacc fall networking event: boat cruise sep 27
Applications are open!
Applications to the SACCNY Mentor Program are now open! Apply here.
SACCNY Mentor Program Kick-off – October 2018
Applications to the Mentor Program are now open. Apply here!
eacc spring networking event - may 24
Innovation circle with innovation 360 - May 29
women in leadership series: lieutenant governor kathleen c. hochul
Din väg till USA: Event om arbetsvisum med Advokatbyrå Prima AB
RECURRING CONFERENCES & EVENTS
Want to know more or organize an event together?
 Let us engage you further by partnering up to promote your brand through hosting or sponsoring of one of our events or conferences.
     Get in Touch
  570 Lexington Avenue, 20th Floor, New York, NY 10022
  +1 212 838 5530
   info@saccnyc.org

     Get in Touch
  570 Lexington Avenue, 20th Floor, New York, NY 10022   +1 212 838 5530    info@saccnyc.org

Behind the Scenes at Fotografiska New York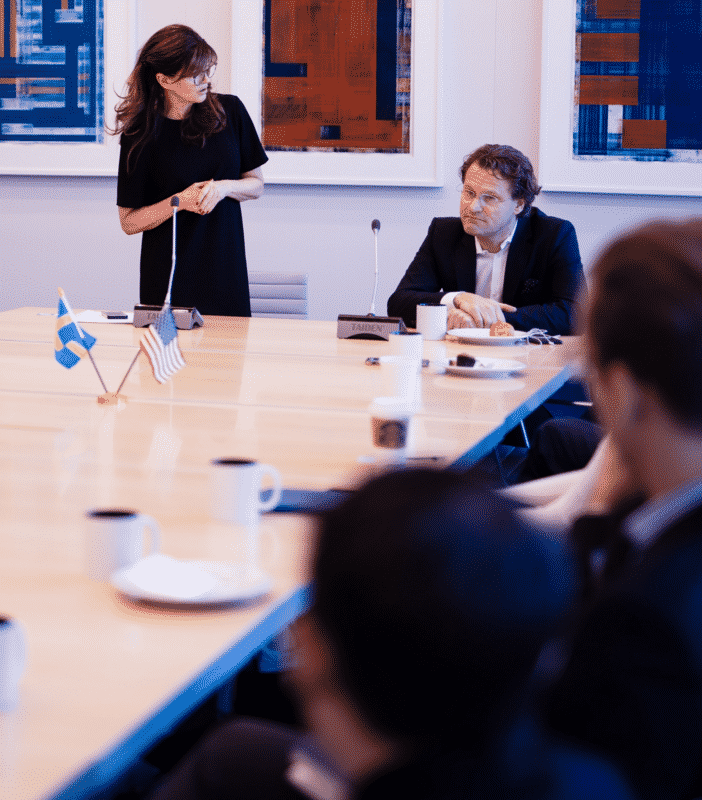 Breakfast with pär-jörgen pärson
annual general meeting 2018
executive women's conference
skills to shine in interviews
SACCNY Christmas luncheon
Young Professionals: Tasting the nordics